Agrigento
Pindaro called it "the most beautiful among the mortal towns". Agrigento has all the ingredients that make Sicily a world-famous place: history, sea and nature.

In an ancient past Agrigento was one of the cities that dominated the Mediterranean Sea. Today it is the capital of the central-southern province of Sicily. The town lies on a hill, 230 mts above sea level, and overlooks the surrounding green hills, with their almond and olive trees.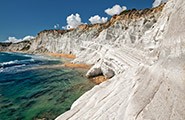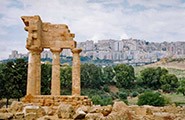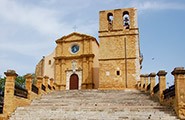 The old town, crossed by the ancient Atenea road, is a winding maze which recalls the North African towns. But Agrigento, like many Sicilian cities, combines Greek elements with Roman, Arab and Norman ones. The best way to witness this multi-cultural aspect is to walk its strees and seat in its squares.

You will walk through elegant buildings and fascinating churches, solid keepers of history and culture. Among the religious buildings, you cannot miss the Cathedral of Saint Gerlando, the Abbey of the Holy Spirit and the Church of Saint Laurence.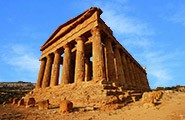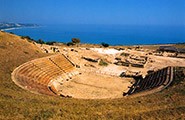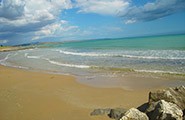 Agrigento is also known as the City of Temples. The impressive Doric complex in its surroundings was declared a World Heritage Site by UNESCO in 1997. The Valley of the Temples is without a doubt the most fascinating trace of the Greek presence in Sicily. Nearby the town of Cattolica Eraclea there is another awe-inspiring archaeological site: the remains of the ancient Greek town of Eraclea Minoa.

Many treasures are kept in the inner area of Agrigento. But the coastline is nonetheless famous for its beauty. It is infact one of the most popular beach resorts in Sicily. The symbol of this area is the spectacular rocky cliff called Scala dei Turchi (Stair of the Turks). There are also several beautiful sandy beaches, like Porto Palo, San Leo and Eraclea Minoa. The latter is part of the Natural Reserve of Torre Salsa, a WWF site where is possible to admire one of the few surviving examples of dune environment in Sicily.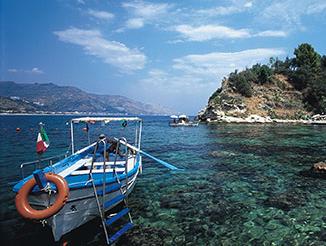 Northern Sicily Hotels and Villas
Hotels and Villas West Sicily
Hotels and Villas in South Sicily