Val di Noto
The term Val di Noto is usually used to indicate the south eastern part of Sicily, which once was the district of Noto, that is the "Vallo".
So it has nothing to do with a valley, on the contrary the territory is complex from a geographical point of view, marked by the Iblean Mountains, cut by canyons and streams. It is on the northern border of this area that experts identify the line of contact between the Indo-Australian and North African tectonic plates, a characteristic which makes the area seismically unstable.

Val di Noto re-unites the historic centres of 8 cities which were destroyed by the earthquake of 1693. The reconstruction works have left us with a heritage of 8 Baroque gems:
Noto
, Palazzolo Acreide, Ragusa,
Modica
, Scicli, Catania, Caltagirone and Militello in Val di Catania.
Val di Noto
was declared a world
heritage site by UNESCO in 2002
.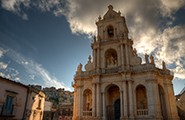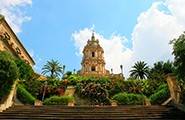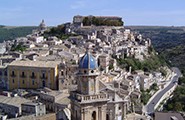 Reconstruction was the outcome of a combined commitment among the communities and hence the eighttowns were reconstructed according to a common Late Baroque imprint. The adoption of these architectural and artistic solutions made the entireVal di Noto the "the culmination and final flowering of Baroque art in Europe", the reason which in 2002 led UNESCO to list the area among the world heritage sites.

The architectural heritage of Val di Noto is impressive for its extent and similarity and brings together the exuberance of the Late Baroque and an innovative form of urban planning. Another factor which has determined the protection of these eight towns and which goes to increase their fascination is the fact that they are in constant peril due to seismic risk and the vicinity of nearby Etna with its sudden eruptions.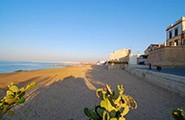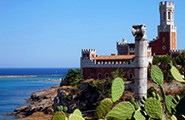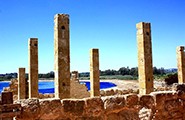 But Val di Noto is not suggested as a tourist area solely for those in
search of culture
– in the south eastern corner of Sicily lies one of the most appreciated stretches of coast of the Island, with a series of exceptionally beautiful and varied beaches, from the long even sandy stretches of
Sampieri
to popular
Marina di Ragusa
, from the surfers' paradise of Portopalo di Capo Passero to the
nature park of Calamosche
.
And indeed the latter is set in the heart of one of the region's nature gems, the
Vendicari nature reserve
,one of the three most interesting wetland areas in Europe.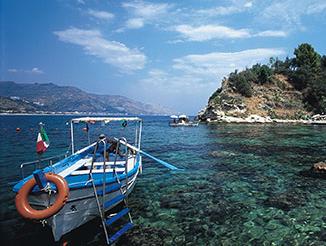 Northern Sicily Hotels and Villas
Hotels and Villas West Sicily
Hotels and Villas in South Sicily