Taormina
Taormina is a Sicilian small town, located in the municipality of Messina. It is the perfect combination of history, sea and nature and this is why it is considered one of the most renowned tourist resorts in Sicily.
The location of Taormina is spectacular: the town is set on a natural terrace, 200 mts above the sea level, with a wonderful view of Mount Etna on the other side.

Mount Tauro gently slopes into the Ionian Sea creating some amazing coves. In this spectacular scenery are set some unique archaeological sites, creating a perfect combination of history and nature.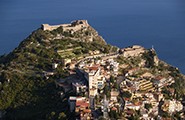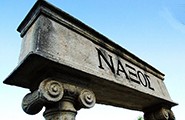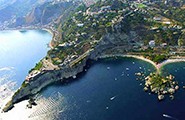 Taormina lies nearby Giardini-Naxos, which is considered to be the first Greek settlement on the island. The inhabitants of the ancient city of Naxos were banished by the tyrant of Syracuse and moved to the valley under Mount Tauro, an area alresy inhabited by the Siculi people.

In Taormina there are numerous traces of the ancient history: the symbol of the town is the Ancient Theatre, while in the Antiquarium are preserved many relics and artifacts. The Odeon Theatre and the so-called Naumachia are the most important remains of the Roman era.

The Greek domination was followed by the Roman, the Arab and the French ones and all of them left their traces in the urban architecture. Many beautiful private houses were also built during the 19th century, when Taormina became a fancy tourist resort among the European nobility.

A fine example of that is Lady Florence Trevelyan, and English noble woman, who bought a rocky outcrop called Isola Bella and established there a lush garden, with many local and exotic plants, which later became a Nature Reserve. She also constructed several very original buildings, inspired by her travels in the far East.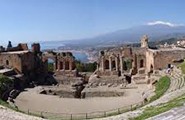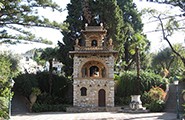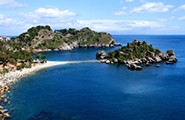 This international "pilgrimage" made Taormina a world famous tourist resort, not only for its natural beauty, but also for this highbrow kind of "dolce vita" which thrived in the late 19th century. A few decades later this area became one of the many mass tourism destinations in the Mediterranean Sea, but nowadays its great cultural heritage is attracting many visitors once again.

The sea, which once was a great resource for the many fishermen in the area, nowadays is still the largest source of income. Taormina is definitely an ideal beach resort. The most beautiful beaches in the area are Isola Bella, Mazzarò and Giardini Naxos, renowned for the many high quality facilities and for the lively nightlife.
Book now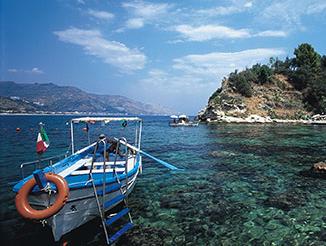 Northern Sicily Hotels and Villas
Hotels and Villas West Sicily
Hotels and Villas in South Sicily