Sicily Beaches & Coasts
Taormina Beaches
The sea, which once was a great resource for the many fishermen in the area, nowadays is still the largest source of income. Taormina is definitely an ideal beach resort.
Syracuse Beaches
The shores in the area are mostly rocky, but along the coast there are also some sandy stretches, like the beautiful beach of Gallina, in the area of Avola, or the popular Fontane Bianche.
Catania Beaches
The presence of Mount Etna and its millennia of volcanic activity have shaped a distinctive shoreline, ranging from the black pebbles of Praiola and San Giovanni Li Cuti to the spectacular Cyclops' Riviera.
Palermo Beaches
The city of Palermo is surrounded by several nice beaches, like Mondello (the beach of the Palermitani), the postcard-perfect promenade of Cefalu and the lovely bays and coves of Ustica.
Messina Beaches
A short drive away, the hinterland of Messina offers a number of top-class attractions: don't miss world-famous Taormina, but also Milazzo, Capo d'Orlando, Castel di Tusa and Tindari.
Val di Noto Beaches
In the south eastern corner of Sicily lies one of the most appreciated stretches of coast of the Island, with a series of exceptionally beautiful and varied beaches.
Agrigento Beaches
Many treasures are kept in the inner area of Agrigento. But the coastline is nonetheless famous for its beauty. It is infact one of the most popular beach resorts in Sicily.
Trapani Beaches
A great attractions of this area of Sicily are its beautiful beaches, set amidst rare unforgettable scenery: don't miss the Nature Reserve dello Zingaro and the Aegadian islands.
Islands of Sicily Beaches
With their lunar landscapes, Mediterranean oasis, cliffs on the sea and Caribbean-like beaches, Sicilian islands can satisfy even the most demanding tourist.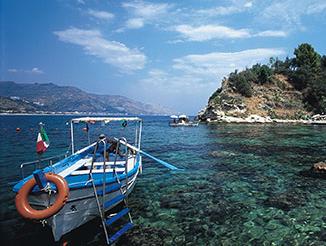 Northern Sicily Hotels and Villas
Hotels and Villas West Sicily
Hotels and Villas in South Sicily