Beautiful cities and archaeological sites
Taormina Sight
The Greek domination was followed by the Roman, the Arab and the French ones and all of them left their traces in the urban architecture. Dring the 19th century, Taormina became a fancy tourist resort among the European nobility.
Syracuse Sight
The old town centre of Syracuse is located on the island of Ortygia. It is definitely one of the most beautiful districts in Sicily. Greek elements are combined in a sublime way with Medieval and Baroque ones.
Catania Sight
As many other Sicilian cities, Catania owes much of its present-day charm to the coexisting signs of the Greek, Roman, Norman and Aragonese periods, followed by its exceptional reconstruction in late Baroque style.
Palermo Sight
Palermo was originally a port and over the centuries it has always kept a great relevance as a strategic point in the Mediterraniean Sea. The majority of the monuments can be found in the old town centre, among the typical markets.
Val di Noto Sight
The architectural heritage of Val di Noto is impressive for its extent and similarity and brings together the exuberance of the Late Baroque and an innovative form of urban planning.
Agrigento Sight
The old town, crossed by the ancient Atenea road, is a winding maze which recalls the North African towns. But Agrigento, like many Sicilian cities, combines Greek elements with Roman, Arab and Norman ones.
Messina Sight
The dominant architectural style is Art Nouveau and the overall impression it gives is that of an airy modern city, whose spirit is best appreciated by taking long walks along its avenues.
Trapani Sight
A distinctive Arab influence is seen in the white buildings of the city's historic centre, just behind the port. The best way to savour the full charm of this city rich in art and history is to take a long leisurely walk.
Central Sicily Sight
The main archaeological site of Central Sicily is the Villa del Casale in Piazza Armerina, an impressive testimonial to Roman civilization on the island protected by UNESCO.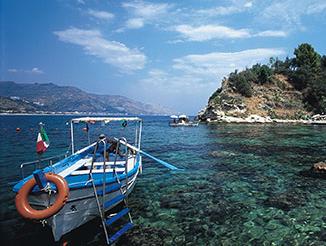 Northern Sicily Hotels and Villas
Hotels and Villas West Sicily
Hotels and Villas in South Sicily